Up to 10,000 fans could be back in stadiums by mid-May as part of the government's plans to move England out of lockdown.
Prime Minister Boris Johnson has announced a four-part plan to lift the coronavirus lockdown.
Outdoor sports including football, golf and tennis will be allowed to resume in England from 29 March.
The plan to ease lockdown requires four tests on vaccines, infection rates and new coronavirus variants to be met.
"The turnstiles of our sports stadia will once again rotate," said Johnson.
In an address to the nation later on Monday, the Prime Minister stressed the roll-out of the UK's vaccination programme had allowed the government to draw up this pathway, but that final decisions would be made "on data".
Leisure centres, gyms and swimming pools can open from 12 April.
Venues such as gyms, tennis courts and golf courses have been closed across England since lockdown was announced on 4 January.
The government says it will run a series of 'pilot' events in April and the English Football League (EFL) said it would be "engaging" with the government over the potential for a small number of fans to attend the Carabao Cup final at Wembley on 25 April.
If the pilots are successful, "up to 10,000 people or 25% of total seated capacity, whichever is lower" will be allowed in stadiums for sporting events, but not before 17 May.
That could mean the FA Cup final at Wembley on 15 May is played behind closed doors, as it was in August, although fans may be able to attend the conclusion of the Premier League, which is set to finish on 23 May.
The delayed Euro 2020 competition begins on 11 June with Wembley set to host seven matches, including the final on 11 July.
Wimbledon, which was cancelled in 2020 for the first time since the Second World War, is scheduled for 28 June to 11 July with Formula 1's British Grand Prix at Silverstone on 18 July.
What will be allowed in England from 8 March?
Under-18s sport can take place at school as part of educational provision, or as part of wraparound care.
The stay-at-home restriction will continue but will be amended so people can leave home for recreation as well as exercise outdoors – with their own household, support or childcare bubble, or with one person from another household. Social distancing and other safe behaviours should be followed.
From 29 March
Outdoor sports facilities such as tennis and basketball courts, and outdoor swimming pools, can reopen. Formally organised outdoor sports – for adults and under 18s – can also restart and will not be subject to the gatherings limits.
No earlier than 12 April
Indoor leisure (including gyms) open for use individually or within household groups.
All children will be able to attend any indoor children's activity, including sport, regardless of circumstance. Parent and child groups of up to 15 people (not counting children aged under five years old) can restart indoors.
No earlier than 17 May
Adult indoor group sports and exercise classes.
Sports events indoors will be allowed up to 1,000 people or 50% of a venue's capacity, whichever is lower, while outdoor events will have a capacity of either 50% or 4,000 people, whichever is lower.
There will be a special provision for large, outdoor, seated venues where crowds can be safely distributed, allowing up to 10,000 people or 25% of total seated capacity, whichever is lower.
No earlier than 21 June
Remove all legal limits on social contact.
Reopen the remaining closed settings and enable large events above the capacity restrictions (from no earlier than 17 May entry).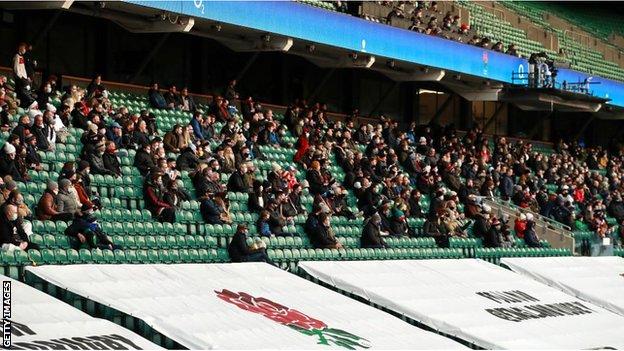 'Very welcome' – reaction to the government's announcement
A statement from the Football Association said: "The FA is absolutely delighted fans will be allowed back soon.
"The game is simply not the same without them and we look forward to the return of full stadia as soon as it is safe and possible."
Sport England chief executive Tim Hollingsworth said: "The Prime Minister's roadmap for the return of sport and physical activity is very welcome and a clear recognition of how important it is to the nation's physical and mental health.
"We know people are desperate to get back playing the sport they love and doing the activities they have so badly missed, and now it is at last in sight."
The Lawn Tennis Association said: "We know sport has a key role in supporting the physical and mental health of the nation, so its return will give a boost to the whole country, and is very welcome.
"Clearly tennis is a naturally socially distanced and safe activity and so we would have liked restrictions to be lifted without delay and made the case for this. However, we're now focused on supporting venues, coaches, officials and players to prepare for the return of outdoor tennis on 29 March."
Jon Dutton, chief executive of Rugby League World Cup 2021, said he was "greatly encouraged" and added: "We've remained positive and optimistic fans would be able to attend the tournament, which will be held in October and November 2021 in England.
"We very much hope this tournament, predominantly being staged in many of the hardest hit areas across the north of England, will play a part in the nation's pandemic recovery plan and will be the biggest and best ever Rugby League World Cup."
The Rugby Football Union (RFU) "welcomed" the announcement and said: "This is good news for the game and for players, coaches and volunteers across the country who will once again be able to enjoy the physical and mental health benefits of being involved in team sport."
The England and Wales Cricket Board (ECB) said: "The ECB welcomes the government's decision to permit grassroots cricket to return across England in time for the start of the 2021 season. We will continue to work closely with the Welsh Government on the return of recreational cricket in Wales.
"We are very pleased to see the return of spectators to grounds from mid-May. Our leading venues believe they have the technology and know-how to return capacity crowds and we look forward to working with the government to identify ways this can be achieved in a safe and controlled manner."
However, both Swim England and England Golf expressed some disappointment.
Swim England chief executive Jane Nickerson said she had "mixed feelings" as she was "delighted" to see pools reopening but wanted the government to reconsider a ban on over-18s resuming club activities until at least 17 May.
England Golf said it was "extremely disappointed that the scientific evidence presented to government detailing how the sport can be played in a Covid-secure manner has not resulted in a return to play date earlier than 29 March".
Rules in Scotland, Wales and Northern Ireland
In Scotland, outdoor non-contact sports like golf and tennis are currently permitted and the government hopes to publish a route out of lockdown in the coming week.
Under Wales' current restrictions, sport and leisure facilities are closed but up to four people from two different households can meet to exercise outdoors.
First Minister Mark Drakeford has announced minor easing of restrictions and said he hopes the "stay-at-home" requirement can end within three weeks.
Indoor and outdoor sports facilities are closed in Northern Ireland, where lockdown has been extended until 1 April, with a review of current measures on 18 March