Navala Village is an authentic traditional village in the Ba Highlands of the largest island of the Republic of Fiji, Viti Levu.
Known most of the time as the last traditional Fijian village on the island nation, there are approximately 220 houses which are named as bures, and they are traditionally built from bamboo and grass.
Navala is nestled in rugged, grassy mountains which means that the people's lifestyle is traditional in fashion with no electricity and telephone systems, depending on subsistence farming, fishing and hunting.
This Should Interest You: Navatu Rock, Fiji – One Of Fiji's Oldest Human Settlements
There are actually three settlements which are making up the entire village, and as every bures is same in size, it means that people living in Navala are all equal, making it a quite unique and special place to be seen.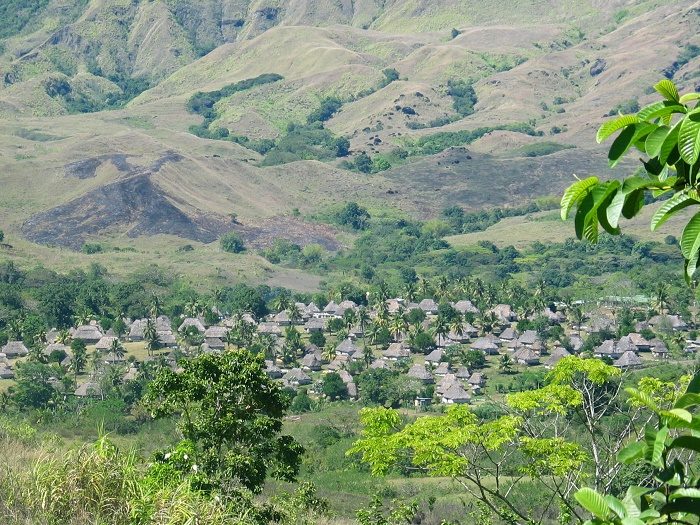 Once there, there are great panoramic views of the Yasawa Island group, nonetheless, the village itself is a photographer's delight and for a small entrance fee.
One can wander around the village and enjoy in the amazing nature that surrounds the village, together with the experience of how the locals are living with the nature.
A true and unique Fijian adventure!
Navala – possibly Fiji's most picturesque village – is tucked away in the rugged, grassy mountains of the Suncoast.
On a guided tour of the village, you'll be welcomed in a kava ceremony before you meet the locals and learn about their subsistent way of life.
Unlike other places in Fiji, Navala has largely kept their traditional style houses.
Getting to see these distinctive traditional thatched-roof bures up close is what makes this place so special.
Against the dramatic landscape, this ancient village is picture-postcard worthy.
Navala is a village in the Ba Highlands of northern-central, Fiji. It is noted for its thatched buildings, amounting to over 200.
It is one of the few settlements in Fiji which remains fully traditional architecturally. Navala is actually three settlements put together.
It is protected by mountains and ridges. Navala is on the other side of a river.
The river floods often and is the main reason for Navala's isolation from the other towns.
It is also a popular tourist site.
Navala is very special because all their houses are the same size. All the bures have a metal post also known as a Bou (in Fijian).
Bous are mostly placed in a chief's house.
This shows Navala's equality, and is one reason why Navala is a special village.