Governor Of Lagos State, Babajide Sanwo-olu writes:
The final two months of the year will bring a wave of completed projects and initiatives that represent our commitment to improving the lives of Lagosians.
Today, I commissioned the Oyingbo Bridge, a significant step in our journey towards completing and opening the Red Line Rail project.
The Oyingbo Bridge is a remarkable T-shaped structure, stretching 717 meters in length. It connects key areas of Lagos, enhancing accessibility and safety.
A big thank you to the Governor of Ekiti state, H.E Biodun Oyebanji, who joined me today in the commissioning.
This bridge links Murtala Muhammed Way to Apapa Road, offering access to Costain, Iganmu Industrial Area, Lagos Badagry Expressway, Herbert Macaulay Way, Third Mainland Bridge, Otto, Carter Bridge, and Ijora.
Not only does the Oyingbo Bridge improve traffic flow, but it also enhances safety by separating vehicular/pedestrian traffic from rail traffic, reducing accidents at railway level crossings.
From infrastructure to education, we're determined to keep Lagos moving forward, and these projects commissioned are just the beginning.
Your support and patience are greatly appreciated.
=======
The commissioning of this massive infrastructure project speaks to what is possible when you have a thinking leadership and a government that works with a vision at the helm.
We have seen Lagos evolve to become a great city under the grand vision of President Bola Ahmed Tinubu, who laid the foundation for the development initiatives being implemented by his successors in Lagos.
Also Read:Regional Railway To Link 44 Cities, Towns – Development Agenda for Western Nigeria Commission
"Ekiti State has a lot to learn from Lagos in terms of creating a practicable development vision that will be passed on to successive administration.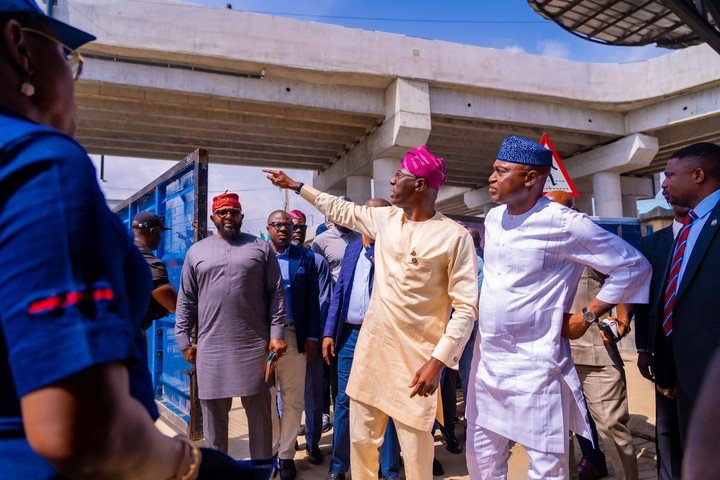 This is the first time, in several years, which Ekiti is witnessing unbroken transition to Government by same political party. Ekiti is toeing the same path, as we are committed to build on the foundation laid by my predecessor."
Governor @biodunaoyebanji of Ekiti State today at the commissioning of the Oyingbo Flyover Project, in preparation for the Red Line Rail Project
==========
The Oyingbo bridge has the following features:
1. The bridge is T-Shaped.
2. It is 717 metres in length.
3. Connects Murtala Muhammed Way to Apapa Road to provide access to Costain, Iganmu Industrial area, and Lagos Badagry Expressway.
It also provides access to Herbert Macaulay Way and Third Mainland Bridge; Otto towards Carter Bridge and Ijora.
4. It separates vehicular/pedestrian traffic front rail traffic.
5. And it eliminates accidents associated at railway level crossing.
This bridge, along with others, including the Yaba overpass bridge, the Pen Cinema Bridge, Yaba bridge, Mushin bridge, and Ikeja are built for the convenience of passengers and other Lagosians as we roll out the Red Line Train in not too distant time.