Torrential downpours after a week of mostly steady rainfall triggered flash flooding in New York City on Friday, disrupting subway service in the most populous U.S. city and turning some streets into small lakes.
A flash flood warning was in effect for New York City until midday, with as much as 6 inches (15 cm) of rain falling in some locations, including Brooklyn, lower Manhattan and John F. Kennedy International Airport in the borough of Queens, said Zack Taylor of the National Weather Service.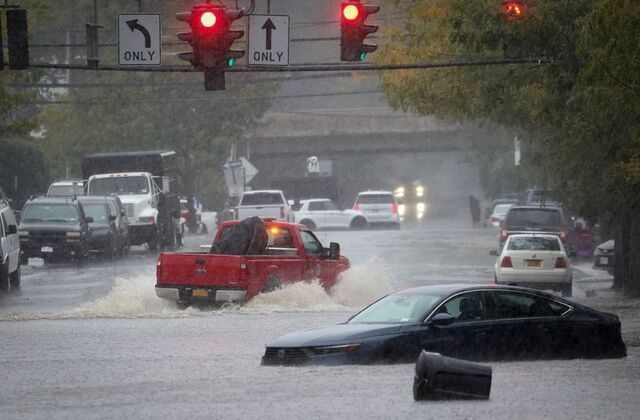 Across the region, another 2 to 3 inches (5 to 8 cm)of rain could fall throughout the day and into the night, but some locations could see even more, said Taylor, a meteorologist with the service's Weather Prediction Center in College Park, Maryland
"This is seriously a life-threatening situation," he said.
Taylor warned against travel until the weather system pulls away from the coast later on Friday evening.
The extreme rainfall prompted New York Governor Kathy to declare a state of emergency for New York City, Long Island, and the Hudson Valley.
Flooding caused major disruptions to New York's subway system and the Metro North commuter rail service, according to the Metropolitan Transportation Agency. Some subway lines were suspended entirely, including the G, which connects Brooklyn and Queens, and many stations were closed.
In New York, intermittent rain this week further saturated the ground, setting up conditions conducive to flash flooding.
New York stunned and swamped by record-breaking rainfall as more downpours are expected
One of New York's wettest days in decades left the metropolitan area stunned and swamped Friday after heavy rainfall knocked out several subway and commuter rail lines, stranded drivers on highways, flooded basements and shuttered a terminal at LaGuardia Airport for hours.
Some 8.65 inches (21.97 centimeters) of rain had fallen at John F. Kennedy Airport by nightfall Friday, surpassing the record for any September day set during Hurricane Donna in 1960, the National Weather Service said.
Parts of Brooklyn saw more than 7.25 inches (18.41 centimeters), with at least one spot recording 2.5 inches (6 centimeters) in a single hour, according to weather and city officials.
More downpours were expected Saturday.