SKiNCARE IS AN ESSENTIAL PART OF OUR DAILY ROUTINE, IT IS THE FOUNDATION OF BEAUTY AND BEAUTY IS CERTAINLY A PRIORITY AS EVERYONE WANTS TO LOOK GOOD, BUT LOOKING YOUR BEST SHOULDN'T COME AT THE EXPENSE OF FEELING YOUR BEST.
IN THE LAST DECADE, DIGITAL SELF-CARE MOVEMENT COMBINED WITH A WIDESPREAD EMBRACE OF SOCIAL MEDIA TO CREATE A MULTIFACETED INTEREST IN HOW WE APPEARED TO OTHERS ONLINE. OUT OF THIS, WELLNESS GURUS EMERGED, SOME CERTIFIED, OTHERS WINGING IT AS THEY ADVOCATED COMPASSION FOR OUR PHYSICAL SELVES. IT BECAME COMMON TO SEE TUTORIALS FOR HAIR AND SKIN CARE NOT ONLY FROM CELEBRITIES, BUT ALSO FROM REGULAR PERSONS. 
HOWEVER, ALONG WITH THE PROLIFERATION OF WELLNESS CONTENT CAME A DELUGE OF MISINFORMATION ABOUT THE WAY WE CARE FOR OURSELVES, PARTICULARLY FOR OUR SKIN. IN RECENT YEARS, AND ESPECIALLY SINCE THE ONSET OF THE COVID-19 PANDEMIC, THIS HAS ONLY GOTTEN WORSE.
THUS, THERE ARE STRONG INDICATIONS THAT SOME OF THESE NEW BEAUTY TRENDS CAN BE BAD FOR THE HEALTH AS THEY ARE OFTEN UNTESTED, AND MAY BE UNSAFE. WHAT MIGHT APPEAR TO BE A MORE AFFORDABLE BEAUTY TREATMENT COULD ACTUALLY BE HARMFUL TO ONE'S HEALTH, AS HARMFUL SKINCARE, HAIR CARE AND WELLNESS PRODUCTS AND SERVICES DO EXIST, OFFERED BY COMPANIES WITHOUT REGULATOR'S APPROVAL. 
THERE IS ALSO THE DO-IT-YOURSELF (DIY) SKIN CARE TREND, THAT IS THE PRACTICE OF CREATING YOUR OWN MIXTURES TO ADDRESS SKIN PROBLEMS. VIDEOS ON SOCIAL MEDIA IN THIS CATEGORY ENCOURAGE VIEWERS TO LOOK IN THEIR PANTRY AND REFRIGERATOR TO FIND NATURAL INGREDIENTS AND USE THOSE INGREDIENTS TO CREATE SUNSCREENS, MOISTURIZERS, CLEANSERS, OR MASKS.
AT FIRST, THIS MAY SEEM LIKE A GREAT APPROACH. AFTER ALL, WE SEE MANY COMMERCIAL PRODUCTS ADVERTISED WITH NATURAL INGREDIENTS IN THEM. HOWEVER, MOST CONSUMERS ARE NOT AWARE OF THE RISKS OF SOME OF THESE DIY SKIN CARE, AND THESE ADVERTISEMENTS DO NOT ADDRESS THEM.
THEN ALSO IS THE APPETITE FOR LIGHT SKIN AS A STANDARD OF BEAUTY WHICH IS BOOSTING THE GROWTH OF NIGERIA'S MULTIMILLION-DOLLAR SKINCARE MARKET, WITH MANY USERS IGNORING THE RISKS POSED BY SOME PRODUCTS.
CONSUMERS ARE FEEDING THE MARKET WITH A ROBUST DEMAND FOR SKIN-BLEACHING PRODUCTS, MAKING SKINCARE ONE OF THE MOST VIBRANT SEGMENTS OF THE PERSONAL CARE INDUSTRY. THE NIGERIAN SKIN CARE E-COMMERCE MARKET IS PREDICTED TO HIT $61 MILLION IN 2023, ACCORDING TO ECOMMERCEDB, A STATISTA-OPERATED DATABASE.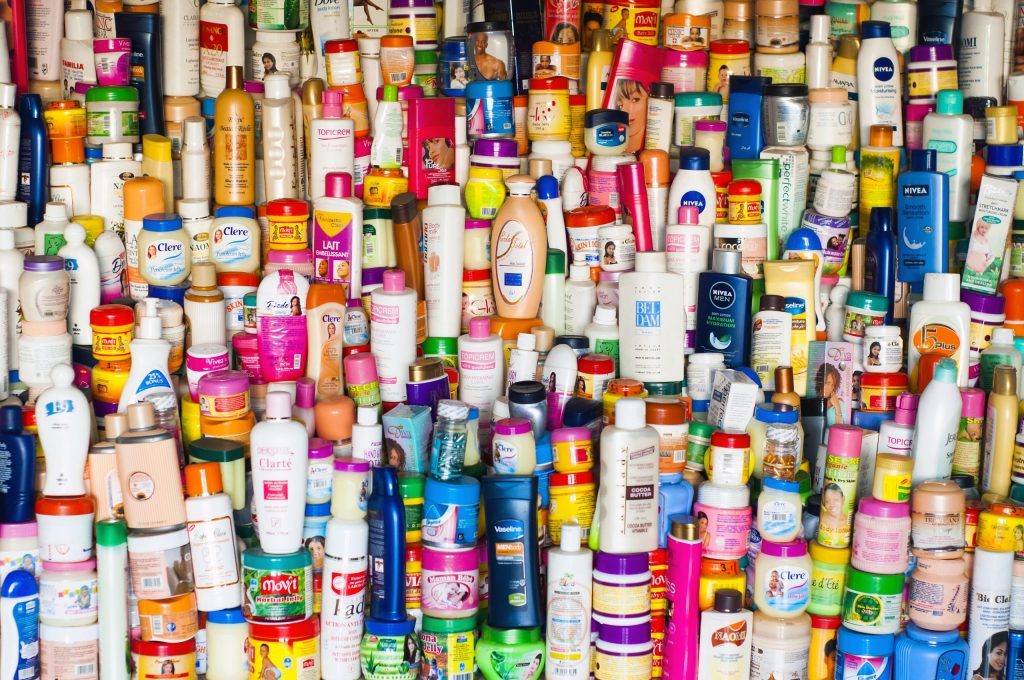 THIS ACCOUNTS FOR 9.9 PERCENT OF THE PERSONAL CARE E-COMMERCE MARKET, AND ANALYSTS EXPECT THAT THE MARKET VOLUME WILL REACH $88.9 MILLION BY 2027.
ON A GLOBAL SCALE, THE SKIN-LIGHTENING INDUSTRY IS ESTIMATED TO BE WORTH $31 BILLION BY 2024, ACCORDING TO A JOINT STUDY OF THE USE OF SKIN FAIRNESS PRODUCTS BY THE CENTRE FOR HEALTH AND SOCIAL SCIENCES, TATA INSTITUTE OF SOCIAL SCIENCES, INDIA AND THE CENTRE FOR APPEARANCE RESEARCH, UNIVERSITY OF THE WEST OF ENGLAND, UNITED KINGDOM.
DATA FROM EUROMONITOR SHOW THAT OF THE $500 BILLION MADE FROM THE RETAIL SALES OF BEAUTY PRODUCTS IN 2019 GLOBALLY, SKINCARE PRODUCTS GENERATED $120 BILLION, THE SECOND HIGHEST AFTER $236 BILLION FROM PERSONAL CARE PRODUCTS.
NOW, WE SEE A SURGE OF ENTREPRENEURS, CELEBRITIES, AND SOCIAL MEDIA INFLUENCERS BECOMING MAINSTREAM MARKETERS OF VARIOUS SKIN-ALTERING PRODUCTS LABELLED AS ORGANIC LIGHTENERS, WHITENERS, TONERS, EVENING CREAMS, ACNE ERASERS AND FADING GELS, AMONG OTHERS. WHILE THERE ARE SOME PRODUCERS WHO FORMULATE PRODUCTS BASED ON SCIENTIFIC RESEARCH THAT HAS SPAN DECADES, MANY ARE INSPIRED BY BUSINESS TRENDS AND RARELY INVOLVE EXPERTS IN DERMATOLOGY, FORMULATION CHEMISTRY, TOXICOLOGY, MICROBIOLOGY, OR SKINCARE CONSULTANCY.
FURTHERMORE, ONLY A FEW MANAGE TO GET APPROVAL FROM THE NATIONAL AGENCY FOR FOOD AND DRUG ADMINISTRATION AND CONTROL (NAFDAC) BEFORE SELLING TO THE PUBLIC.
AS WITH TRENDS IN GENERAL, THERE ARE PROS AND CONS TO THEM. AS A RESULT OF THESE SKINCARE AND BEAUTY TRENDS, INDIVIDUALS WERE INTRODUCED TO THE IMPORTANCE OF GOOD SKIN CARE, LEARNED ABOUT HIGH-QUALITY PRODUCTS, AND RECEIVED EXCELLENT EDUCATION TO TAKE BETTER CARE OF THEIR SKIN AND HEALTH. ALONG WITH THE GOOD, HOWEVER, CAME THE BAD. THERE HAVE BEEN VIRAL TRENDS THAT WERE NOT ONLY UNHELPFUL BUT ALSO DAMAGING TO THE SKIN. THUS, PATIENTS MAY PRESENT WITH ISSUES RESULTING FROM THESE TRENDS.