The Rockefeller Center Christmas Tree has arrived on the Plaza early Saturday morning.
The tree was driven on a flatbed truck onto the Plaza and then hoisted by a crane into place perched next to the ice rink.
It's beginning to look a lot like Christmas in Rockefeller Plaza.
The tree came from Vestal, New York, where it was cut down on Thursday morning before beginning the 200-mile journey to Rockefeller Plaza.
The tree is an 80-year-old Norway Spruce and is 80 feet tall and 43 feet wide, according to Rockefeller Center.
This should interest you: https://ln247.news/how-it-is-celebrated-christmas-in-nigeria/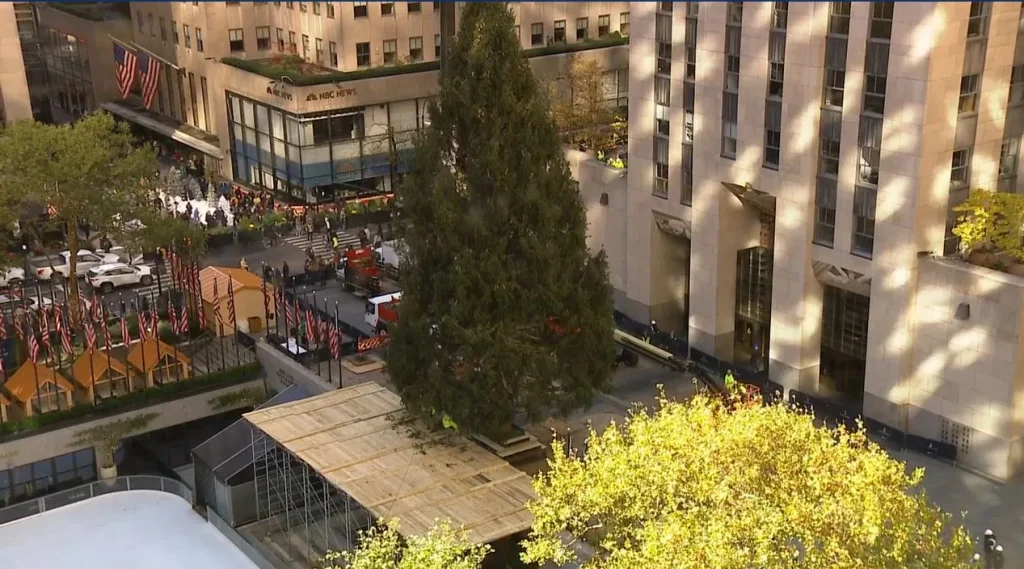 The tree's arrival was a spectacle as always, with crowds gathering to watch the moment the tree was lifted into its home for the holiday season.
There were also plenty of family-fun activities for holiday lovers to enjoy on the South Plaza from 10 a.m. to 1 p.m., according to organizers.
The Rock and Roll Playhouse was scheduled to perform kid-friendly holiday classics.
The Rockefeller Center Christmas Tree – History

The Rockefeller Center Christmas Tree is a large Christmas tree placed annually in Rockefeller Center, in Midtown Manhattan, New York City, United States.
The tree is put in place in mid November and lit in a public ceremony on the Wednesday evening following Thanksgiving.
Since 1997, the lighting has been broadcast live, to hundreds of millions, on NBC's Christmas in Rockefeller Center telecast.
The tree lighting ceremony is aired at the end of every broadcast, following live entertainment.
The tree is lit by the current Mayor of New York City, the CEO and president of Tishman Speyer and special guests.
An estimated 125 million people visit the attraction each year.
The tree, usually a Norway spruce 69 to 100 feet (21–30 m) tall, has been a national tradition each year since 1933.
The official 2023 Christmas Tree Lighting will occur during a live broadcast on November 29, 2023.
The tree will remain on display until 10:00 PM EST on January 13, 2024.