OCTOBER 22
JFK reveals Soviet-built missile bases in Cuba
On Oct. 22, 1962, in a nationally broadcast address, President John F. Kennedy revealed the presence of Soviet-built missile bases under construction in Cuba and announced a quarantine of all offensive military equipment being shipped to the Communist island nation.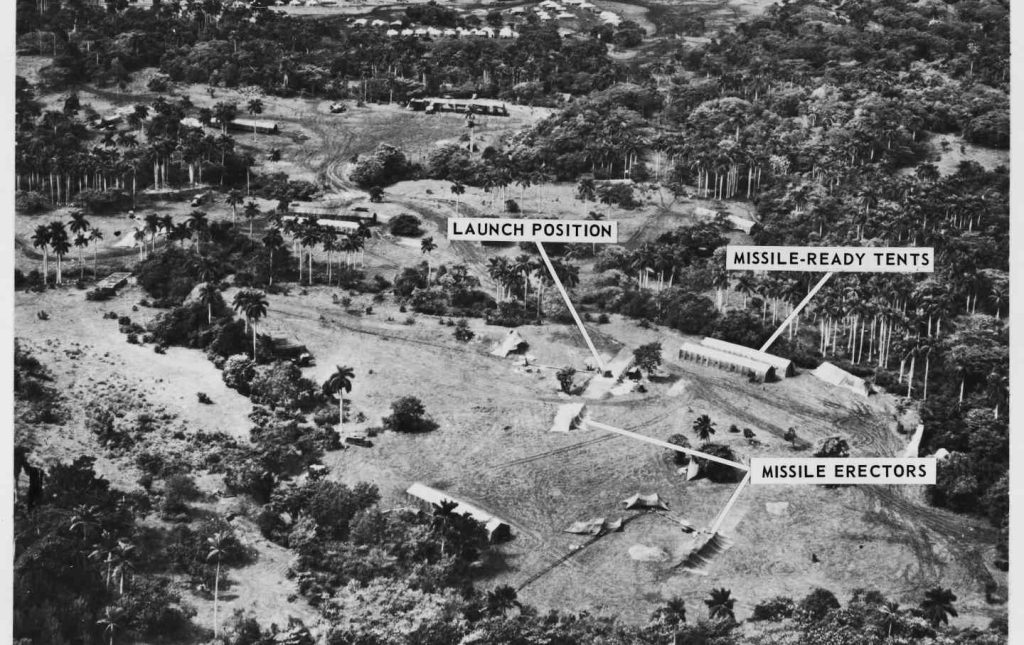 OCTOBER 23
Beirut truck bombing kills 241 US service members
On Oct. 23, 1983, 241 U.S. service members, most of them Marines, were killed in a suicide truck-bombing at Beirut International Airport in Lebanon, while a near-simultaneous attack on French forces killed 58 paratroopers.
OCTOBER 24
The United Nations is officially born.
On Oct. 24, 1945, the United Nations officially came into existence as its charter took effect.
OCTOBER 25
George III takes the throne in Britain
On Oct. 25, 1760, Britain's King George III succeeded his late grandfather, George II.
George II, at the age of 60, was the last British sovereign to fight alongside his soldiers, at the Battle of Dettingen in 1743 in Germany, against the French.
Like his father, for much of his reign George's political options were limited by the strength of the Jacobite cause with which many of the Tories supported, overtly or secretly (James Stuart the Old Pretender, and then his son, Charles Edward Stuart)..
George's reign was threatened in 1745 when Charles Edward Stuart, the Young Pretender, landed in Scotland.
After some initial success (which led to the national anthem in its current form becoming popular among the Hanoverian loyalists), Charles was defeated at the Battle of Culloden in April 1746.
Subsequent Jacobite plots had no realistic prospect of success.
The foundations of the industrial revolution were laid during George's reign, with new levels of production in industries such as coal and shipbuilding and also in agriculture.
At the same time, there was, a rapid rise in population.
Overseas, trade was boosted by successes such as Clive's victories in India at Arcot (1751) and Plassey (1757), which placed Madras and Bengal under British control, and Wolfe's capture of French-held Quebec in 1759 (part of a successful campaign which transferred Canada with its wealthy trade in fish and fur from French to British rule).
As the country prospered and George's reign lengthened, his early unpopularity (he did not travel far in England, and much preferred Hanover) changed into a general respect.
The King's eldest son, Frederick, died in 1751. George's grandson, George III, therefore inherited the throne, on George's death in 1760.
Also Read: Residents Lament On Devastating Flood In Isheri Community
OCTOBER 26
Amy Coney Barrett confirmed as Supreme Court justice
On October 26th, 2020, Amy Coney Barrett was confirmed to the Supreme Court by a deeply divided Senate, with Republicans overpowering Democrats to install President Donald Trump's nominee days before the election and secure a likely conservative court majority for years to come.
OCTOBER 27
Gunman kills 11 in Pittsburgh synagogue
On Oct. 27, 2018, a gunman shot and killed 11 congregants and wounded six others at Pittsburgh's Tree of Life synagogue in the deadliest attack on Jews in U.S. history; authorities said the suspect, Robert Bowers, raged against Jews during and after the rampage.
Always Visit: http://www.ln247.news
OCTOBER 28
Benito Mussolini takes power in Italy
On Oct. 28, 1922, fascism came to Italy as Benito Mussolini took control of the government.